Letter comes with an AI copywriting assistant to come up with copy inspiration for you. It's best used to save time rewriting article descriptions and newsletter introductions.
Here's a quick overview on how you can use it, along with Letter's content import feature:
Step 1: drag and drop ready-made templates to build your newsletter layout.

Step 2: paste your article links into the content panel and hit Import. Just like that, images are automatically resized, titles and descriptions are pulled in, and it's all linked up and ready to go.

Step 3: Time to use some AI magic to rewrite the copy. With some text selected, click the Rewrite button on the Content panel, and the selected text will be rewritten.
You can always press undo if you're not happy with the generated copy.
Generating Longer-form Newsletter Introductions
You can also generate full newsletter introductions - this only works with cards in the 'header' menu, such as these: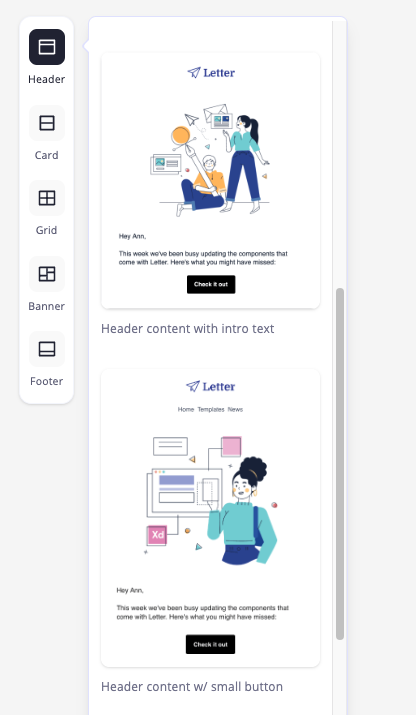 Using a header card, select the intro text, and again, click Rewrite at the bottom of the Content panel.

The AI will summarized all the links in your newsletter, write a little introduction section, and also signed off.
This is a great starting point for inspiration. You can then edit it to your needs and export the newsletter when you're happy with it.